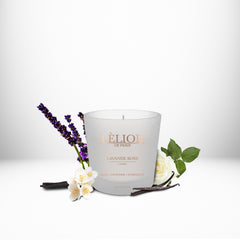 Rose | Lavender | Evergreen
Top Notes: Lavender
Middle Notes: Rose
Base Notes: Evergreen, Vanilla
Support Documents
Inspiration
Top notes: Lavender
Middle notes: Rose
Base notes: Evergreen, Vanilla
In the most beautiful garden on earth, the first two humans discover the power of scent. Moods are transformed as a mixture of lavender and rose emerge from the gentle, colorful atmosphere. Lavender Rose fragrance produces a soft, sweet herbal and floral aroma which will fill your heart time and time again.
Useful Resources
Frequency Asked Questions
What are the candles burn time?

Our 10oz candles will burn for 60 hours, our 14oz candles will burn for 85 hours, and our 70oz candle will burn for 415 hours.

They have an initial burn time of at least 3, 5, 8 hours respecfully.

Be safe! Never leave your candle unattended and in a safe spot away form children and/or pets.
Are Lèlior's fragrances all-natural?

Yes, our products are free of parabens, sulfates and phthalates. Additionally, our products are animal cruelty free, they are safe around children and pets, our fragrances are compliant with IFRA regulations, Proposition 65 Regulations, and all other US regulations.
How should I store candles?

Avoid storing candles in direct sunlight to preserve the fragrance from the damage potentialperserve of ultraviolet rays.
How do I clean up candle wax?

To clean up spilled candle wax, place a paper towel or brown paper bag over the wax and gently iron over it with a low-heat setting, allowing the wax to absorb into the paper. Please take note on whether the spilled surface is sensitive to heat as this might cause more damage to the surface.
Should I use a wick trimmer?

Wick trimmer will increase the life span of the candle and is recommended. Trim your wick about a quarter inch before use to control how the wax melts, prolong the candle lifespan and limit spot.
Full Control via the App
Aroma World
Schedule Operational Times
Configure Intensity
Remotely Operated